Beautiful Freaks 53 – Primavera 2016 – lorenzobriotti@yahoo.it
Andando ad analizzare la lunga discografia italiana uscita nella metà degli anni Sessanta si nota una nutrita presenza di artisti stranieri che cantano in italiano. Il perché ciò sia accaduto è stato argomento di libri (come "Mondo Beat" di Luciano Ceri ed Ernesto De Pascale uscito nel 1993 per la Fuori Thema) ed è tuttora argomento di blog (basti citare l'ottimo www.musicaememoria.com). Come spesso accade, si tratta di un fenomeno prevalentemente italiano. Perché decine di artisti soul e beat, verso la metà degli anni Sessanta decisero di incidere un disco in italiano? I motivi sono diversi.
I discografici italiani erano alla ricerca di talenti da lanciare nel Bel Paese come nuovi Beatles o nuovi fenomeni musicali "che vengono dall'estero", cosa che all'epoca faceva molto fico. Se poi, ed è stato il caso di un gruppo che si chiamava Motowns, questi venivano da Liverpool proprio come i Beatles…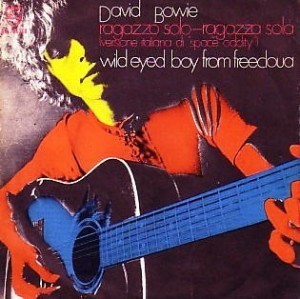 La stessa cosa la stavano facendo i produttori di musica, americani o inglesi. Per poter lanciare un'artista sul mercato italiano serviva un 45 giri apripista, meglio se cantato nella nostra lingua.
Un altro motivo era il Festival di Sanremo. Verso la fine del decennio una numerosa schiera di artisti prevalentemente soul vennero in Italia a cantare abbinati con un artista italiano (come ad esempio Wilson Pickett che cantò "Un'avventura" di Battisti nel 1969).
A Roma c'era poi l'americana Rca che aveva aperto degli studi importanti e molto imponenti dalle parti di piazzale Clodio, che venivano usati per le colonne sonore italiane (grande vero cavallo di battaglia della musica italiana del'epoca). Gli studi, per l'evenienza venivano usati anche dai "complessi" per incidere i loro brani. Non a caso molti stranieri che vennero in Italia, grazie all'esperienza acquista finirono per fare i turnisti con artisti famosi come De Gregori o Venditti che infatti incisero i loro album degli esordi proprio con l'Rca italiana.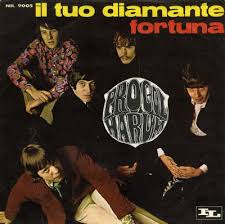 Il fenomeno vede le sue punte dell'iceberg con i famosissimi Rokes e Mal & the Primitives, i già citati Motowns, Bad Boys, Sopworth Camel (poi solo Camel), Casuals, Sorrows e Renegades, questi ultimi tre vantavano già dei singoli in Inghilterra di discreto successo, fino al Doc Thomas Group e ai Thane Russal & the Three.
Oltre a questi nomi però, tralasciando la lunghissima discografia di artisti soul e r'n'b (magari me ne occuperò in un prossimo numero di BF) e quella di artisti di vari paesi d'Europa come i francesi 5 Gentlemen o gli spagnoli Los Brincos e Los Bravos, ecco una lista di artisti prevalentemente beat o psichedelici che hanno realizzato uno o più singoli in italiano. L'elenco è in ordine alfabetico ma non rispetta nessun ordine cronologico ed è volutamente selettivo. Quello che si vuole far conoscere in questo breve scritto è un fenomeno a molti completamente sconosciuto: ad aver inciso in italiano sono stati anche molti nomi importanti dei sixties britannici e statunitensi. E così, spulciandolo nell'elenco che segue si scopre che il compianto David Bowie ha inciso in italiano la sua Space Oddity e che Rod Evans e Ian Paice dei Deep Purple hanno cantato nella nostra lingua con una band di nome Maze nel 1967.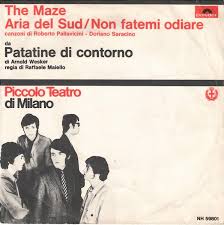 Tra parentesi la versione originale del brano: molte volte, si trattava infatti della versione italiana di un successo già cantato in inglese.
1910 Fruitgum Co. – C'e Qualcosa Che Non Ricordo Piu (Reflections From The Looking Glass)
1910 Fruitgum Co. – Hip Hip Hip Urrah! (1-2-3 Red Light)
1910 Fruitgum Co. – Semplicissimo (Simon Says)
Aphrodite's Child – Lontano dagli occhi
Aphrodite's Child – Quando l'amore diventa poesia(End of the world)
David Bowie – Ragazzo solo, ragazza sola (Space oddity)
Box Tops – Mi sento felice (Cry like a Baby)
Brain Auger & The Trinity – Gatto nero (Black cat)
Chad & Jeremy – Adesso Sì
Chad & Jeremy – Nessuno più di me
Cowsills – Vola con noi (We can fly)
Dave Dee, Dozy, Beaky, Mick & Tich – Follemente vivo(Save me)
Dave Dee, Dozy, Beaky, Mick & Tich – Zabadak (in italiano)
Grapefruit – Dolce Delilah
Grapefruit – Mai Nessuno
Grass Roots – Guarda Guarda (Wake Up, Wake Up)
Grass Roots – Mi hai Perdonato Lo So (Tip of my tongue)
Harmony Grass – Te Lo Ricordi (I Remember)
Hollies – Devi Avere Fiducia In Me
Hollies – Non prego per me
Honeybus – Chi Eri Tu (Ceiling N.2)
Honeybus – La Cicogna (She Sold Blackpool Rock)
Love Affair – Io Senza Te(Rainbow Valley)
Maze – Aria Del Sud (Rod Evans e Ian Paice dei Deep Purple nel 1967)
Maze – Non Fatemi Odiar (Rod Evans e Ian Paice dei Deep Purple nel 1967)
Monkees – Tema dei Monkees (Monkees Theme)
Move – Something (in italiano)
Neil McArthur – Ma Non è Giusto (She's Not There) (Signolo italiano del cantante dei Zombies)
Ohio Express – Da Lulu(Down At Lulu's)
Ohio Express – Grazia(Mercy)
Ohio Express – Yummy Yummy Yummy
Paul Revere & the Raiders – Little Girl in the 4th Row (in italiano)
Peter And Gordon – Che cos'è una rosa
Peter And Gordon – Il Messaggio
Plastic Penny – Guarda Nel Cielo(Noboy knows It)
Plastic Penny – Tutto Quello Che Ho (Everything I Am)
Procol Harum – Il Tuo Diamante (Shine on brightly)
Procol Harum – La Fortuna(Repent Walpurgis)
Rascals – Corri nel sole, Sentirai la pioggia (A Beautiful Morning)
Rascals – Groovin (in italiano)
Tommy James & The Shondells – Soli Si Muore (Crimson And Clover)
Tremeloes – E in Silenzio (Silence Is Golden)
Youngbloods – Qui Noi, Tra Noi (Grizzly Bear)
Youngbloods – Se Qualcuno Mi Dirà (Get Together)