Beautiful Freaks 30 – Primavera 2008 – di Lorenzo Briotti (lorenzobriotti@yahoo.it)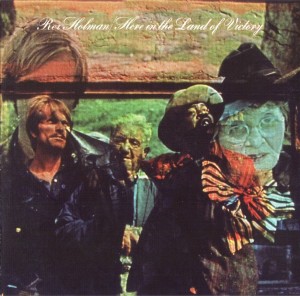 L'attore statunitense Rex Holman appare in alcuni episodi di Star Trek e in molti altri telefilm tra gli anni '60 e gli anni '80, tra cui The Monkees e The Man From U.N.C.L.E. Come altri suoi colleghi si improvvisa cantante solo per un album o poco più; "Here On The Land Of Victory" esce nel 1970 quando Rex Holman ha gia la tenera età di 42 anni. Paragonato un po' forzatamente a Tim Buckley, l'album è melodico e contemplativo, ricco di chitarra acustica, sitar, e tabla;  tra le tracce più interessanti da segnalare quella di apertura che da il titolo all'album: è stato ristampato recentemente dall'inglese Fallout.
Come detto, Rex Holman non è stato l'unico ad aver percorso questa strada. Qui di seguito altri attori che hanno inciso dischi nel finire degli anni '60 senza avere molto successo: su tutti il più famoso è David hemmings, che nel 1967 incide con Gene Clark dei Byrds l'album "David Hemmings Happens". Don Johnson, prima di partecipare a "Miami Vice", suona e registra un album con gli Horses nel 1969. Peggy Lipton, attrice ed ex moglie di Quincy jones, famosa nei primi anni '70 nella serie "The Mod Squad" e negli anni '90 in "Twin Peaks", incide nel 1968 un buon album d'esordio omonimo subito dimenticato.
E l'elenco potrebbe continuare….