Beautiful Freaks 24 autunno 2006 – di Lorenzo Briotti (lorenzobriotti@yahoo.it)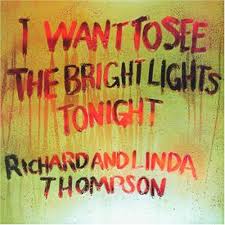 Richard Thompson è stata la mente del gruppo più famoso del folk-rock inglese, i Fairport Convention. Nel 1971 decide di intraprendere la carriera solistica. I fan del folk-rock inglese vivono questo suo abbandono come la fine del genere; In realtà Richard Thompson vuole intraprendere nuove strade musicali fuori dai  ristretti limiti del folk inglese e i tre album che seguono a suo nome tra cui il primo del 1972 "Henry The Human Fly", e il terzo "I want To See The Bright Lights Tonight" del 1974, primo in cui appare anche il nome di Linda Thompson, sono stati decisamente tra i migliori album usciti nei primi '70 in Inghilterra.
Linda Peters aveva incontrato Richard Thompson durante l'incisione di "Liege & Lief" dei Fairport Convention nel 1969; successivamente aveva inciso alcuni demo con Nick Drake ed Elton John.
"I want to see the bright lights tonight",  giudicato dal Rolling Stone nel 2003 come il 479esimo miglior album della storia del rock su 500, è riassumibile nel  pezzo che da il titolo all'album, uno di quelli che fanno venire i "brividi" , mix perfetto tra poesia, rock e folk inglese. L'album, uscito all'epoca per la Island, è stato ristampato dalla Universal nel 2004, proprietaria di molte etichette indipendenti inglesi dei '60 e '70, con l'aggiunta di tre bonus track.