Beautiful Freaks 27 – Estate 2007 – di Lorenzo Briotti (lorenzobriotti@yahoo.it)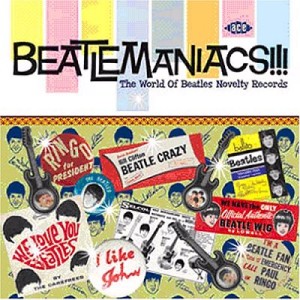 Per ricordarci, tante volte ce lo fossimo dimenticato, quale fu l'impatto dei Beatles e della Beatlemania negli anni '60, la Ace records ci propone un interessante cd dal titolo "Beatlmaniacs!! The world of Beatles novelty records". Una  compilation con ben 24 artisti e gruppi sia americani che inglesi che, con uno stile molto vario che spazia dal surf cantato al pop  femminile sullo stile delle Shangri-Las, hanno dedicato  una canzone ai Fab Four con titoli del tipo John, Paul,George & Ringo (Bulldogs), We Love The Beatles (Vernons Girls), A Beatle I Want To Be (Sonny Curtis) , I Dreamed a was a Beatle (Murray Kellum) o Beatles, Please come back (Gigi Parker & The Lonelies).
All'apparenza, ogni brano sembra una dichiarazione d'amore incondizionata verso i quattro di Liverpool; in realtà spulciando tra le tracce, ci sono brani come Stamp Out The Beatles degli Hi-Riders, che nel '64 all'indomani dell'esplosione della Beatlemania negli States, dichiarano tutto il loro risentimento verso i Beatles colpevoli di distruggere la tradizione fuorviando i giovani americani, in accordo con chi dichiarava in quegli anni "Beatle Workship is idolatry. The bible says, children keeps yourself from idols".
Divertente il tentativo non sempre riuscito da parte di molti gruppi d'oltreoceano di mascherare la propria provenienza, tentando di riprodurre un suono molto "Mersey". Da segnalare inoltre la canzone conclusiva del cd: un gruppo prodotto dalla MGM di nome Mystery Tour suona The Ballad Of Paul, brano dedicato a Paul McCartney. Si legge nel libretto del cd, che all'indomani dello scioglimento dei Beatles, in molti college americani Paul McCartney veniva dato per morto; dopo un discreto successo del singolo, la casa discografica pubblica nel dicembre del '69 un inserzione in cui c'è scritto "Paul is still with us".