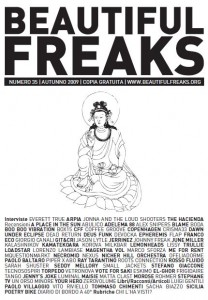 Interviste: Jonna And The Loud Shooters, Everett True, Arpia, The Hacienda
Rubriche: Chi l'ha Visti?
Articoli: Diario di Bordo a 40°, Sicilia Poetry Bike
Libri: L. Gentili "Il potere della leadership", P. Villaggio "Storia della libertà di pensiero", V. Riviello "Scala condominiale"
Racconti e Poesie: Rosa di Raso, Non è Solo la Porta Chiusa in Faccia
Recensioni: A Place In The Sun, Abulico, Adelema88, Alex Snipers, Blame, Boda, Boo Boo Vibrations, Box 15…
Vai all'elenco completo delle recensioni di BF35, oppure clicca qui per scaricare il Pdf con tutte le recensioni.

Scarica il numero in formato Pdf facendo click sulla copertina.